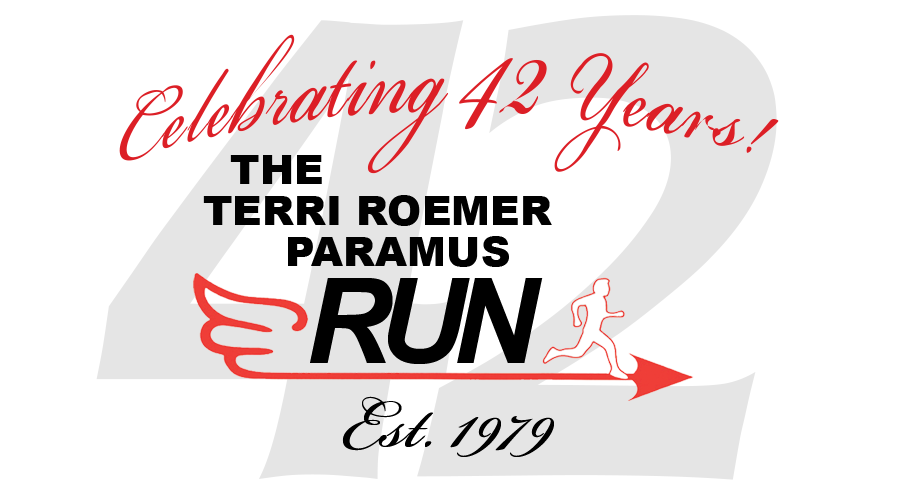 The Terri Roemer Paramus Run
Contact Information:
The Terri Roemer Paramus Run
(201) 265-9321
601 From Road, Paramus, NJ 07652
Sunday Oct 18, 2020 9:30AM
The Race is On!
We're pleased to announce that the 42nd Annual Terri Roemer Paramus Run is scheduled to take place Sunday, October 18, 2020 at the Fairfield Inn & Suites Paramus.
Since 1979, runners and walkers have been coming to Paramus on the third Sunday in October to enjoy the beautiful fall weather, participate in one of the most runner-focused events of the year, and help young people succeed through the Paramus Scholarship Fund. Since its inception, the Run has contributed over $700,000 to the fund.
Safety is our top priority. This year's Run will be a very different event, with just one 4-mile race. There will be NO 5K Race, NO 10K Race, NO Health Walk, NO Kid's Fun Run. There will also be no Post-Race Party, and no Awards Ceremony. However, post-race snacks will be available and prizes will be awarded. We will once again be offering our popular, long-sleeve t-shirts to everyone who registers.
Please read the 2020 Paramus Run Rules and Waiver before registering. See below, or click here for a printable PDF. We appreciate your patience and understanding as we navigate these unprecedented times.
Location
Fairfield Inn & Suites Paramus
Paramus Park Shopping Center
GPS Address: 601 From Road, Paramus, NJ
Schedule, Sunday October 18, 2020
9:30am Special 4 Mile Run
Please arrive no earlier than 8:15am.
Packet Pick Up
Road Runner Sports
65 Route 4 East, Paramus, NJ, (201) 226-0035
Friday and Saturday, October 16th and 17th. Pick up times coming soon.
Course
Fast and rolling, scenic, tree lined. This year's special course is exactly 4 miles, and is comprised of portions of last years' 5K and 10K courses. Please note, there will be NO water stops and NO mile clocks on-course.
Awards
Awards will be presented to the top three male and top three female finishers in the following categories: Overall; Age 29 and under; Age 30-49; Age 50 and over.
2020 Terri Roemer Paramus Run Rules
ALL RULES MUST BE FOLLOWED. THE RACE DIRECTOR AND TIMING COMPANY RESERVE THE RIGHT TO DISQUALIFY ANYONE NOT FOLLOWING THE RULES.
All runners are required to wear a mask/face covering before and after the race. Race staff will wear masks at all times.

ONLINE REGISTRATION ONLY. NO RACE DAY REGISTRATION.

Runners are encouraged to pick up their packets before race day. Please visit www.paramusrun.com for pick-up location and up-to-date information. Race packet with runner's name will include bib, pins, and long-sleeve t-shirt. Onsite check-in will be available on Race Day. Check-in lines will be marked at six-foot intervals.

WATER WILL NOT BE PROVIDED. Please bring your own. Trash receptacles will be located along the course and before and after the race. Please don't litter.

Hand sanitizer must be utilized in portable toilets and after use. Mask/face covering required. Six-foot spacing in waiting lines.

YOUR PROJECTED, APPROXIMATE FINISH TIME IS REQUIRED WHEN REGISTERING. Runners will start every 5-10 seconds, four or five at a time. Lowest bib numbers go first. Lines and runners will be six feet apart. If you have immediate family members that live with you, up to five can start together. Runners will be asked to adhere to a "no drafting" rule (i.e. runners must maintain a six-foot separation from other runners when passing.)

Net chip time will be used to score, not gun time.

Runners must leave the finish line area as soon as possible. No congregating in groups before or after the race. You must wear a mask/face covering after the race.

Results will be available after the race, online only. No paper results will be printed. Visit www.paramusrun.com or www.compuscore.com for results.

Race will be capped at 400 registrants total. NO EXCEPTIONS.

The 2020 Terri Roemer Paramus Run is not a USATF-sanctioned event, nor does it have Grand Prix status. Course is accurately measured.
Rules subject to change. Please visit www.paramusrun.com for the most up-to-date information and for any last–minute changes or announcements.
Race
Price
Start Time
Sanctioning Organization

---

4 miles - Running - 4 Mile
$30.00
9:30 am
N/A
Fundraisers

1

Total Raised

$265.00

Current Goal

$0.00

High Donation

$50.00

Average Donation

$12.62