Manasquan Ocean Mile Swim AND 1/2 Mile swim
Contact Information:
David Eldridge
(732) 779-2048
124 Ocean Ave, Manasquan, NJ 08736
Sunday Jul 16, 2023 8:00AM
This will be our 24th year running the race, and we are so excited to be able to continue the tradition.

 





NEW

: This year we are adding a 1/2 mile swim for ages 12 & under only, swum in the 4th wave
This fundraising event, sponsored by the Manasquan High School Swim Boosters, supports the Manasquan High School-Point Pleasant Beach High School Co-op Swim Team.
We will be sending swimmers off in four waves.
Either Male or Female, or a third heat which anyone can choose, and a fourth wave for the 1/2 Mile 12/uner swimmers only. Husband/wife, parent child, or anyone else who would like to go in a separate heat to help with social distancing. All eligible for any awards. Your start will be gun start according to what heat you start in. There will be a check point at the start to verify heats.
Male: 8:00AM
Female: 8:05AM
3rd Wave: 8:10AM
4th Wave: 8:20AM
Note: 3rd Wave (Anyone can go in this wave to help separate people more. Husband/Wife, Parent Child etc) More of a Buddy Heat.
4th Wave (1/2 mile swim for ages 12 & under ONLY) (Select wave in online registration)
Select Wave: 1st (Male), 2nd (Female),  3rd (Mix friends/Family) 4th (1/2 mile for ages 12 & under ONLY) (Select wave in online registration)

Distance: One mile-straight course
                  Wetsuit permitted (Wetsuits will not be eligible for awards)
                  Timing provided by Split Second Timing

Course Map: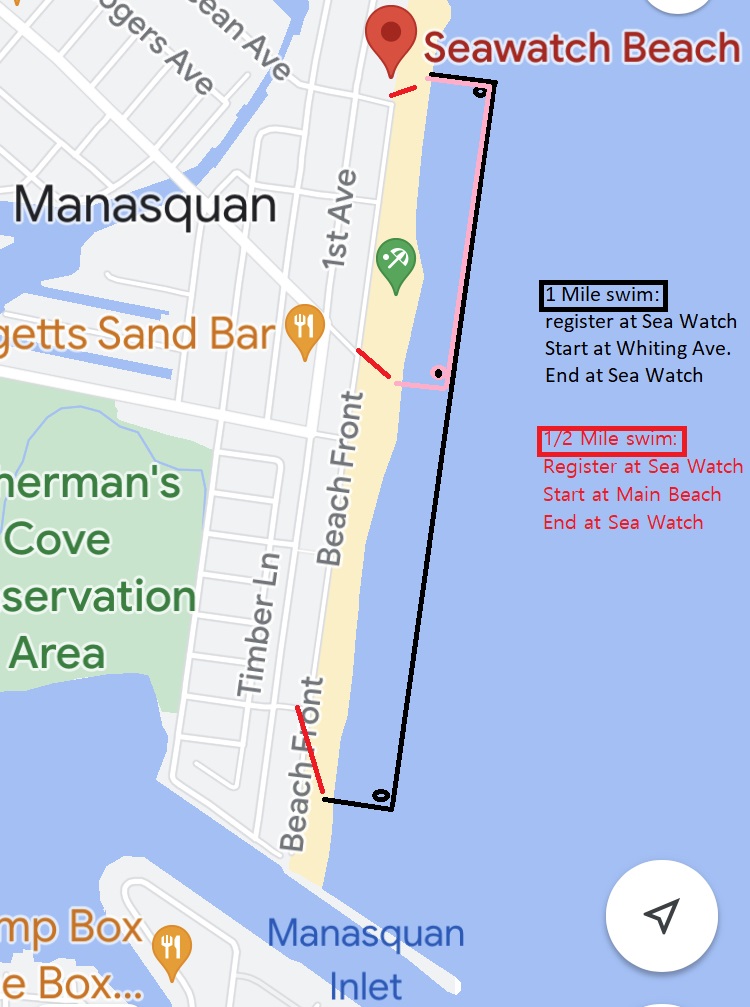 Date and Start Time:
Sunday, July 17, 2022 at 8:00am.

Location:
Check In – Sea Watch Beach

Click here for map

Start - Approximately, a one mile walk south of the check in location

Click here

Finish – Same location as check-in
Registration:
Registration will open at 12:01am on June 7th, 2023

All registrations will be online at

raceforum.com/squanswim

(no mail in registrations)

Race day registrations using your personal device and credit card only (no paper registration forms or cash will be exchanged on race day)




*Race Day registration on-line at:

raceforum.com/squanswim
Registration Deadline by July 1st - $25.00 – Guaranteed a T-Shirt and requested size
Register after July 1st  - $35.00
-  T-Shirts not guaranteed and on a first come first serve basis, – size not guaranteed
Awards: 
1st Overall Male & Female for Mile & 1/2 Mile 
Then top 3 finishers in each age group, Male and Female
Mile: 14 & under, 15-19, 20-29, 30-39, 40-49, 50-59, 60-69, 70+
1/2 Mile: 11&12, 10 & unders  
   * Wetsuits will not be eligible for awards.
   (Select wetsuit choice Yes or NO during registration)
Race Amenities: Race fee includes entry to the mile swim, t-shirt (Guaranteed ONLY to those who register by the deadline on 7/1/23), latex swim cap, a snack and water following the race.

Baggage Transport: Will be available


 
T

               Thank you to our top sponsors for this fundraising event                 

                                     
                                     
                            Manasquan Elks - 
Lodge 2534
Race
Price
Start Time
Sanctioning Organization

---

One Mile Ocean Swim Straight Course - Open water swim - Open Water Swim
$25.00 - by 7/1
8:00 am
N/A
1/2 Mile Swim 12 & Under Only - Open water swim - Open Water Swim
$25.00 - by 7/1
8:20 am
N/A
Fundraisers

0

Total Raised

$0.00

Current Goal

$0.00

High Donation

$0.00

Average Donation

$0.00